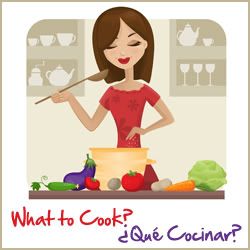 I am very excited about a new opportunity that came my way and I wanted to share it with you. I have been given the chance to write a column at
The Dish
! The Dish is ConAgra Foods' new online resource for bloggers. It is full of great information and content that bloggers can use in their blogs. It also has a section that upon signing for FREE, bloggers can request ConAgra products for review and to share with their readers!
My new column is all about recipes! Every month I will be sharing which recipes will be the most searched recipes in the web for the following month. This will allow bloggers to post these recipes in their blogs and have an extra chance to increase their traffic and be found by search engines. You know, if you write about what people are looking for, hopefully they will come to you!
You are probably asking how do I know that! Well I wish I had a magic ball.... But it is not that. ConAgra Foods has partnered with Google and together we have done analysis of past searches and behaviours in the net to be able to predict recipe searches for the following month.
Additionally, my new column will be in both English and Spanish. In the English column, I will be sharing the general recipes and key words searched in English for that particular month. The Spanish version will be more geared for Latino bloggers and will have the key words and recipes that are actually typed in Spanish in the net. That way we can capture all those delicious culturally relevant dishes within our Latino culture. So if you are a bilingual blogger, I will recommend you visit both posts as different recipes will be highlighted, then you can choose which ones to make according to your audience.
Well, enough blah blah blah - here are the links to my main page and to the posts for December! Happy cooking!
My Main Page
What to cook - year round?